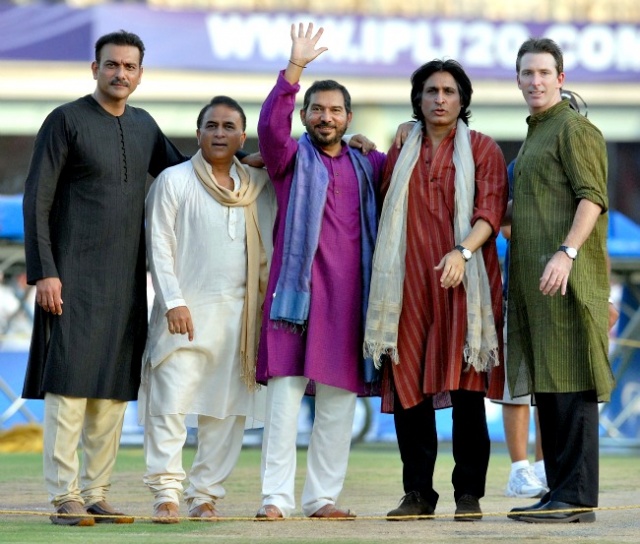 Old-timer stalwarts, good at cricket and talking about it, are made to pose
Models, good at posing, are made to comment on cricket
Firstly, use of women as cheerleaders or sexily attired woman hosts in cricket isn't very much in the traditional spirit of cricket. These are the real acts which have associated objectification of women via cricket.
Secondly, the way cricket commentary has evolved in the recent years has put some otherwise remarkable people in very awkward situations. Remember Mandira Bedi, a fairly talented actress and model? She was the first in India brought in to give a make-over (not necessarily much-needed) to Indian Cricket commentary. I am sure she would make a very lovely host to a reality show. But when she was made to sit alongside the likes of Ravi Shastri and Harsha Bhogle, it is hard to expect her to match them in her insights about cricket. No wonder, she was found goofing up rather often. Now, matters have proceeded further in the direction of glamourisation of cricket commentary and analysis. Now, the cricket studio is very little about insightful analysis and mostly about acting like socialites, something models would do much better than cricketers. No wonder, it's the cricket experts' turn to goof up. First, the seniors are made to adapt to this very foreign style of talking and conducting themselves, thereby forcing them to commit errors. Then, they are ridiculed or criticised in public. Not fair!
Finally, I agree that the way IPL is being clothed up, it shows a demeaning attitude towards women. Talking of rapes and harrassment in the same breath is a bit of a stretch, if not irrelevant. But our seniors should be left out of this debate, if required, by not subjecting them to the completely changed scenes in the IPL studio.
Related: